My story begins at a corporately owned veterinary practice. I was happy to be working in a career I loved, yet dreamed of something more. I was the most recent hire at the practice, so I had time on my hands to learn, observe, and think about how I might run a practice one day in the future. When the opportunity to buy a veterinary hospital presented itself, I jumped at the chance. I found a hospital that I wanted to be a part of, with exceptional staff, and most of all clients, in a wonderful location. I haven't looked back since.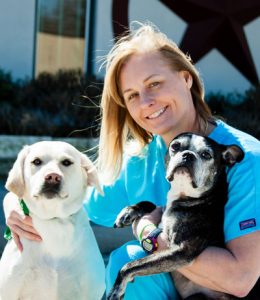 Dr. Tebbie Borgers
Before purchasing Parker County Veterinary Hospital from Dr. Jarrett, Dr. Tebbie Borgers had been practicing small animal veterinary medicine in the Fort Worth area for over 12 years. She worked for several VCA hospitals and most recently at Mellina Animal Hospital. Dr. Borgers has a special interest in pediatrics, dermatology, cardiology, internal medicine and small animal reproduction.
Dr. Borgers grew up in Dallas and graduated from the University of Texas at Austin with a BA and JD degree. After practicing law in Houston for a few years, she decided it was not the career for her and went back to school to obtain her veterinary degree from Texas A&M University. Along the way, Dr. Borgers met and married her husband, Casey, and had three wonderful children, Luke, Charlotte and Noble. You may just see one of her future veterinarians helping out at the hospital! They also share their home with four dogs, Cannonball, Gypsy, Tatum and Kevin, and their cat, Tallulah. In her free time, Dr. Borgers enjoys spending time with her family and animals, being outdoors, doing yoga, watching sports, reading and doing puzzles.