Our story began at a corporately owned veterinary practice. We had an instant connection and quickly developed a strong bond. We were both happy to be working in a career we loved, yet dreamed of something more.
We were the most recent hires at the practice, so we had time on our hands to learn, observe, and brainstorm how we might run a practice one day in the future. When the opportunity to buy a veterinary hospital presented itself, Lee was the first person I called. We found a hospital that we wanted to be a part of, with exceptional staff, doctors and clients, in a wonderful location. We haven't looked back since. We enjoyed ownership so much that we could not pass up the opportunity to open a second hospital in Aledo.
We are different ages, male and female, at different stages in our lives, and we have had different life experiences that compliment each other. We each bring a unique perspective to the practice of veterinary medicine. These differences truly make our practice whole.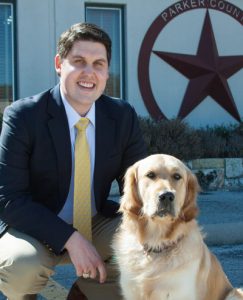 Dr. Lee Hampton
Dr. Lee Hampton's dream began many years before he added the letters "DVM" to his name. At age seven, Dr. Hampton informed his parents he was going to be the quarterback for the Dallas Cowboys or a veterinarian. His family is thankful he had a backup plan. Prior to becoming a practice owner, Dr. Hampton worked at the same clinic for over 15 years. He started in the kennel in high school, then worked as a technician while home on break from college and vet school, and he was hired as a veterinarian after graduation from vet school. Dr. Hampton has developed a special interest in small animal soft tissue surgery, orthopedic surgery, rehabilitation, and oncology. He enjoys sharing his passion for the practice of veterinary medicine with his patients and clients.
Dr. Hampton was raised in Fort Worth, Texas, and he continued the family tradition of attending Texas A&M University. He graduated with undergraduate degrees in Biomedical Science and Animal Science in 2007, and then obtained his Doctor of Veterinary Medicine in 2011. Dr. Hampton and his wife, Beth, have known each other since high school, when he made it his personal mission to help her have more fun in life. They continued dating through college and professional school, and they were married after Beth graduated from Baylor Law School. The Hamptons have one daughter, Mary Elizabeth, and a golden retriever from Scotland named George. Dr. Hampton still loves watching football, along with caring for his small herd of black Angus cattle, listening to George Strait, watching the History Channel, hunting and fishing.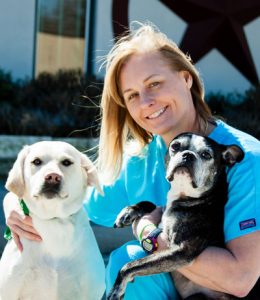 Dr. Tebbie Borgers
Before purchasing Parker County Veterinary Hospital from Dr. Jarrett, Dr. Tebbie Borgers had been practicing small animal veterinary medicine in the Fort Worth area for over 10 years. She worked for several VCA hospitals and most recently at Mellina Animal Hospital. Dr. Borgers has a special interest in pediatrics, dermatology, cardiology, internal medicine and small animal reproduction.
Dr. Borgers grew up in Dallas and graduated from the University of Texas at Austin with a BA and JD degree. After practicing law in Houston for a few years, she decided it was not the career for her and went back to school to obtain her veterinary degree from Texas A&M University. Along the way, Dr. Borgers met and married her husband, Casey, and had three wonderful children, Luke, Charlotte and Noble. You may just see one of her future veterinarians helping out at the hospital! They also share their home with three dogs, Cannonball, Gypsy and Kevin, and their cat, Tallulah. In her free time, Dr. Borgers enjoys spending time with her family and animals, being outdoors, doing yoga, watching sports, reading and doing puzzles.
Lacey
I am the current practice manager of Parker County Veterinary Hospital. I have been fortunate enough to serve in this capacity for the last 13 years. I have worked in the veterinary profession for 21 years. I absolutely love it. Originally, I thought my future was in human medicine; however, God knew exactly where I needed to be. I am a wife and a mother to two beautiful young women! I am also a mother to 6 dogs and 1 cat. Needless to say, I have a full life. I wouldn't dream of having it any other way! "Animals are not my whole life…..But, they make my life whole!"

Dyan – Office Manager/Accounting
My accounting career began in 1972, and in 2009 I had the privilege to begin working with my new family at Parker County Veterinary Hospital. Although I do not work directly with your pets, I enjoy the opportunity to visit your room and love on your puppies and kitties! My husband Rob has been the love of my life since 1969, and we share 4 children, their spouses, and 5 grand babies. We all enjoy getting together for family dinners. Our best buddy Gunner is our amazing Doberman who is slightly spoiled rotten!
Stephanie – RVT (Registered Veterinary Technician)
Ever since I was a young child, I loved animals. I have been working in the veterinary profession since 1998. I started as a kennel technician and achieved my RVT certification from Tomball College in Houston in 2002. This is where my passion and love for the veterinary profession began. I have been with Parker County Veterinary Hospital since 2007 and currently have 4 dogs and 4 cats. These are my four legged furry children. I am happily married and have two wonderful daughters. I continue to enjoy working at Parker County Veterinary Hospital and look forward to meeting all of your fur babies!
Shea – RVT (Registered Veterinary Technician)
I have been with Parker County Veterinary Hospital for over four years now. I started working here as an intern while in school to become a registered veterinary technician; I enjoyed it here so much that I never left! I completed the veterinary technician training and became licensed in the spring of 2017.
Shelly – Veterinary Technician
I have been working in the veterinary field since 1999 and at Parker County Veterinary Hospital since 2002. I am extremely blessed with two wonderful boys and a home full of dogs, cats, chickens, and a bunny!
Haley – Veterinary Technician
I have had a passion for animals as long as I can remember and can't imagine myself doing anything else! I ride horses, have three dogs, and one cat. I started my career here at Parker County Veterinary Hospital three years ago as a kennel technician. I am currently going to school to become a registered veterinary technician and am on track to graduate in December of 2019. I can't wait to meet you and your pets!
Kim – Receptionist
I have been a receptionist for Parker County Veterinary Hospital since 2006. I have two beautiful daughters and a precious granddaughter. My time here has been very rewarding, as I have been able to meet so many wonderful families and their fur babies!
Rhonda – Receptionist
I have been working in the veterinary field for over 25 years and enjoy it very much. I am a mother and grandmother. I raise and show Cornish Rex cats. I also have 4 Chihuahuas, 3 horses, and a Borzoi. All of my animals are a huge part of my family!
Sherry – Receptionist
I have been in veterinary medicine for 18 years as a technician and now as a receptionist. I have two children, Samantha and Wyatt. I also have 3 dogs, a pot belly pig, a mini pig, and an overly friendly chicken!
Carrie – Kennel Technician
I was born in Weatherford and recently moved back to the area with my husband of 17 years and our two sons, Eli and Jacob. We have 3 dogs, 2 cats, a steer, 16 chickens and a snake. I have been a kennel technician at Parker County Veterinary Hospital since the spring of 2016. I enjoy caring for your pets during their visits with us!
Catrina – Kennel Technician
I am a kennel technician at Parker County Veterinary Hospital. Living on a ranch, I have had the opportunity to raise and work with animals all my life. I am currently a senior at Aledo High School and will graduate in June of 2018. After graduating, I will be attending Tarleton State University to study Zoology and Pre-Veterinary Animal Sciences. I hope to attend Texas A&M Veterinary school, just as the doctors at Parker County Veterinary Hospital did. I wound love to become a veterinarian so that I may help animals too!
Jinnelle Jarret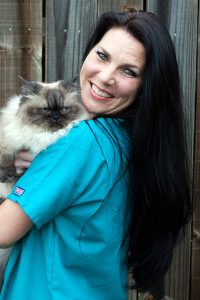 Veterinary Medicine has always been a fascinating profession to me. Being a part of it brings me great joy. I began working at a large animal hospital. I worked there for 5 years before transitioning to working with companion animals (dogs/cats). I have been working with companion animals for approximately 15 years. I truly enjoy helping to educate clients on all things related to their pets. In my spare time, I'm a mom, a wife, and an avid horsewoman! I look forward to meeting you and your animals!